The Willie Agee Playhouse presents The Cozy Couch Short Play Festival
November 12, 2022 • 7:00 pm

-

10:00 pm

$25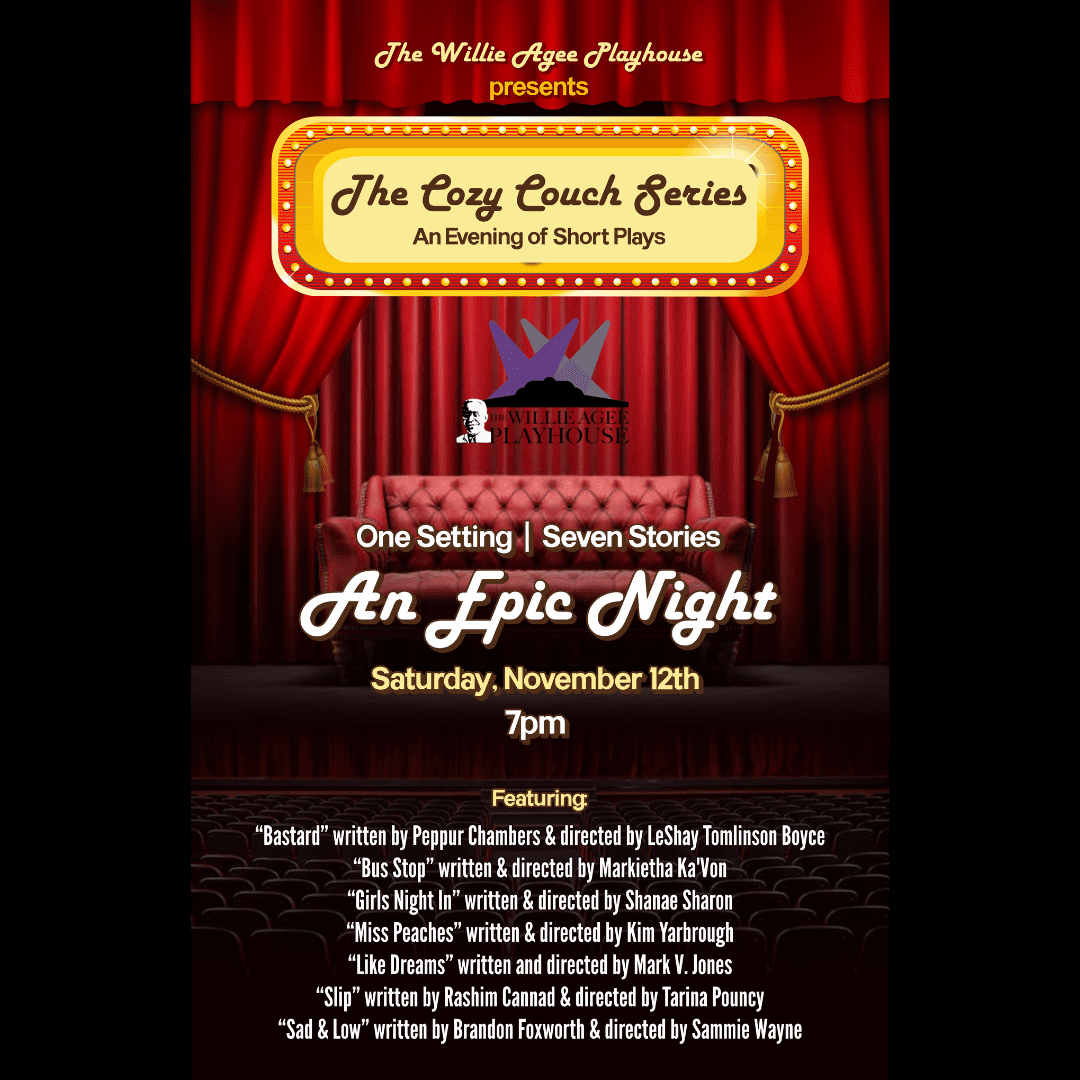 One couch. One chair. That is the setting. Watch as one space transforms into eight different short plays. Stellar acting and superb direction to make for a night you won't soon forget.
Featuring:
Bastard written by Peppur Chambers & directed by LeShay Tomlinson Boyce
Bus Stop written & directed by Markietha Ka'Vaon
The Bad-Assery of Mary Shelley written by Dorian Feinstein & directed by Virginia Novello
Girls Night In written & directed by Shanae Sharon
Miss Peaches written & directed by Kim Yarbrough
Like Dreams written and directed by Mark V. Jones
Slip written by Rashim Cannad & directed by Tarina Pouncy
Sad & Low written by Brandon Foxworth & directed by Sammie Wayne
And Starring: Aaron Lyons, Mark V. Jones, Akilah Walker, Marta Cross, Andrea P. Roundtree, Massi Pregoni, Camille Ariana Aspirlin, Alina Ashby, Chanel Downing, Niles Rivers, Chantal Nchako, Philip Bell, Christina McDowelle, Saadiqa Kamille, Elijah Washington, Raiven French, Emiah Reilly, LeShay Tomlinson Boyce, Gioia Jiles, Sammie Wayne, Josiah Collins, Shy Vaughn, Kim Yarbrough, Tanya Alexander.